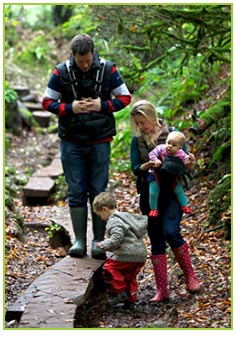 Most of the information regarding Puzzlewood opening times and facilities are available throughout the web site. However, if you have any questions or would like more information we would love to hear from you especially if you have any comments, special requests or questions.
Contact us on:
Tel: 01594 833187 or email us at This email address is being protected from spambots. You need JavaScript enabled to view it..
Q. Is Puzzlewood Accessible For Wheelchairs and Children's Buggies?
Unfortunately no, the uneven steps make this access impossible.
Q. What footwear do you recommend?
Puzzlewood has over 200 uneven and very slippery steps, especially if wet. We strongly advise suitable sturdy footwear with sufficient grip. We do not recommend that children are carried on shoulders.
Q. Are Dogs Welcome at Puzzlewood?
Puzzlewood is a working farm and some of our animals do not respond well to dogs and their presence causes distress. So for this reason we do not allow dogs.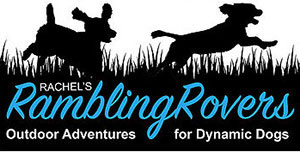 Need to be dog free for a day? I aim to provide a personalised 'home from home' day boarding service. Day care is for a maximum of 8 hours with collection or delivery times/details to be agreed for each owner.
Website: www.rambling-rovers.co.uk
Tel: 07887 941352
Email: This email address is being protected from spambots. You need JavaScript enabled to view it.
Q. Can We Bring Our Own Picnic?
Yes, although we have a lovely café, picnics are allowed. There are benches outside in the garden or inside in a barn and tables provided for this purpose. We do ask that you to take your own rubbish home.
Q. What Is Your Policy on Photography?
Puzzlewood is a very photogenic location and we welcome photographers.
VISITOR PHOTOGRAPHY
All visitors to Puzzlewood can take photographs for their own private use. Tripods are not permitted and pathways must not be blocked. All customers must stay on the paths for their own safety and to protect the environment. Visitors may be asked to stop taking photographs if they are causing concern to staff or a nuisance to other visitors.
COMMERCIAL PHOTOGRAPHY
Commercial photography is only permitted in Puzzlewood with written permission, organised in advance and on agreed dates. Please email This email address is being protected from spambots. You need JavaScript enabled to view it. to discuss your requirements.
Q. Can Puzzlewood Be Hired For Private Functions Or Visits?
Yes, please email This email address is being protected from spambots. You need JavaScript enabled to view it. with your requirements and details.
Q. Are The Prices Of Cottage Hire On The Web Site?
Yes, please click through on the link under Cottages and choose your preferred dates. Then email This email address is being protected from spambots. You need JavaScript enabled to view it. to check availability.