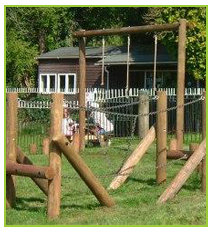 The outdoor playground is a great place for the kids to let off a little steam, whilst the adults relax.
Indoor Play
The indoor maze here at Puzzlewood is a journey of secret doors, dead ends, ups and downs and rounds and rounds. To complete the maze you have to find nine hidden animal pictures and finally the exit. Designed to be a challenge, so don't be surprised if you get lost! It's great fun for adults and children alike.
The Willow Maze
The Puzzlewood willow maze is a work of art in it's own right. The living willow structure has been designed and planted by The Willow Bank.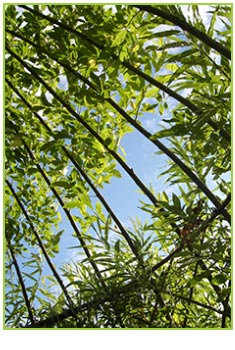 Find your way through the celtic double spiral, walk through tunnels and arches, find igloos and dead ends.
Over 4,000 willow twigs from seven different willow varieties were used in the construction of the Puzzlewood maze.
The willow twigs were then woven to create this spectacular living sculpture.
Can you find the willow igloo or is it called a 'wigloo'?
Constructing the Willow Maze
The willow is woven using basket making techniques to create the a rigid strucure whose appearance will change with the seasons. Once the maze was completed three tonnes of bark were put down to make a suitable play surface.
As the willow twigs grow the maze will become a beautiful green living structure, creating a lovely shady play area.
The new growth will be woven back in to the structure making it stronger and denser.
Willow is also great for encouraging wildlife.