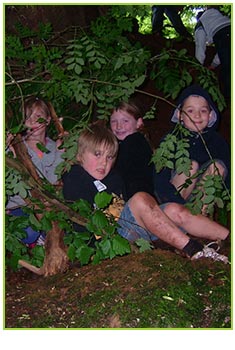 Puzzlewood is an excellent destination for schools, colleges and groups. Not only is it a fun and physically active place, it can be linked to so many areas of the national curriculum.
We have teamed up with primary school teachers and compiled six educational topics suitable for different aspects of the National Curriculum. They include suggested work prior to coming, the visit itself and follow up work at school. Each pdf includes all the information needed including a risk assessment.
If the visit is purely for fun, the children can find our Things To Find hidden in the wood, explore the indoor mazes, meet our animals, let off steam in our willow maze and outdoor playground, then picnic and/or buy refreshments and souvenirs from our shop. Outdoor picnic tables and an indoor room are available.
We are happy to tailor the visit to your needs and do recommend that you come for a free teacher visit in advance.
TOPICS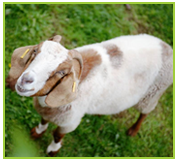 Puzzlewood provides an ideal destination to complement work on nursery rhymes. There is scope for role play, or matching and counting games.
The PDF provides suggestions for cross-curricular activities, drawing on a wide range of nursery rhymes and using the farm animals as an additional resource. There are ample opportunities for creative work.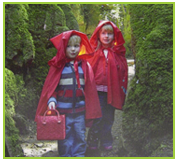 The mystical world of Puzzlewood provides an ideal atmosphere for creative work on 'fairy tales'.
The PDF document can be adapted to suit any favourite story but focuses on Little Red Riding Hood, Three Billy Goats Gruff and Hansel and Gretel. A fairy tale hunt through Puzzlewood provides plenty of creative discussion to stimulate young imaginations.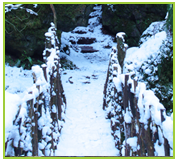 The focus of this visit would be first hand observation and experience – a key element of the Key Stage 1 science curriculum.
Activities include:- identifying common plants, identifying the basic structure of flowers, noting the differences between living organisms, observing growth and the changes in the seasons.
The fauna in Puzzlewood is varied and plentiful and provides an excellent location to go hunting creepy crawlies.
Apart from the obvious scientific content, the PDF includes suggestions for elementary map work, poetry, creative writing and artwork as follow up activities.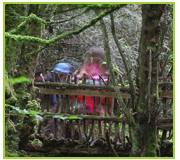 Puzzlewood provides an ideal environment for all types of creative work based on fantasy. The landscape is eerie and particularly atmospheric, full of weird and wonderful natural forms, secret caves and a hidden doorway. The opportunities are endless.
The PDF provides threads for developing stories based on 'The Quest', and gives ideas for a range of extension activities, including poetry and artwork.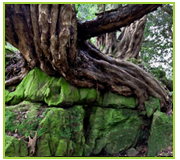 The 'scowles' in Puzzlewood are shaped initially by nature, then modified by man in his search for iron two thousand years ago. The site provides an ideal opportunity to see how man has modified the landscape through his mining activities. .
There is plenty of scope for discussing man's impact on the environment and the importance of conservation.