The magical scenery of Puzzlewood has made it a popular location for filming and photography and to date we have played host to a number of exciting television dramas and factual programmes. We have free, professional hi-res images of Puzzlewood available for press. Please email This email address is being protected from spambots. You need JavaScript enabled to view it..
Dr Who & the Weeping Angels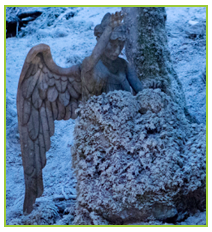 In the 2013 Christmas special Puzzlewood once again became the place for Dr Who to meet up with one of his most frightening adversaries – the Weeping Angels! Clara and Dr Who (Matt Smith) find themselves transported to a snow covered Puzzlewood inhabited by the deadly Weeping Angels.
Matt Smith filmed his first episode of Dr Who at Puzzlewood during nine rainy nights in 2009 (Episode - Flesh and Stone also featuring the Weeping Angels), so it was fitting that Puzzlewood should also be in his last episode. The Dr Who Christmas special saw Peter Capaldi take over as the twelfth Doctor.
Atlantis at Puzzlewood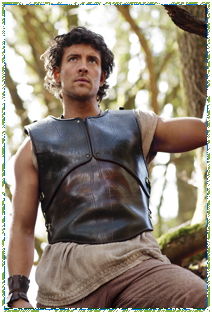 Aired on BBC1 in the autumn of 2013; made by the creators of Merlin it has provided a new hero for BBC viewers on Autumn Saturday evenings. Atlantis is inspired by Greek mythology and follows the adventures of Jason and friends as they seek to discover the fate of Jason's father, encountering plenty of villains and monsters on their way.
Puzzlewood provides an atmospheric location in 'A Girl By Any Other Name' as the forest of Nysa and in the episode 'The Song of Sirens' Hercules (Mark Addy) visits the malevolent and powerful witch Circe, who turns him into a pig! A second series has already been commissioned.
Picture supplied by shine.
Filming Merlin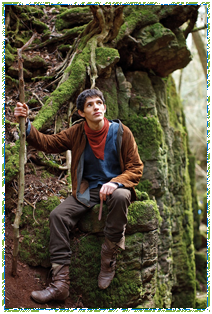 Puzzlewood has been a popular location for the hit series 'Merlin' appearing in all five series. Millions of viewers have enjoyed the adventures of Merlin, Arthur and the Knights of the Round Table and seen some of Puzzlewoods extraordinary scenery!
On some occasions filming has taken place while Puzzlewood was open to the public, so some lucky visitors have been able to see Merlin (Colin Morgan), Arthur (Bradley James), Kate McGrath (Morganna) and several special guest stars in action.
Puzzlewood has been used for such diverse scenes as rockfalls in our gulleys, the location of Morganna's secret hideaway, plus druid camps, dragons, unicorns and plenty of exciting chases. See if you can spot where these scenes were filmed. All 5 series of Merlin are available on DVD.
Hidden Kingdoms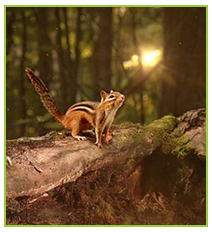 The BBC nature program Hidden Kingdoms used techniques usually associated with feature films to look at the lives of some of the world's smaller animals. With the aid of Blue Screen techniques, the North American Chipmunk could be seen frolicking against a Puzzlewood background. Clever stuff!! 
Stephen Fry narrated the chipmunks battle to survive and its encounters with much larger creatures.
Jack the Giant Slayer
Puzzlewood made its feature film debut during 2013 in Bryan Singer's new 3D movie, 'Jack the Giant Slayer'. This is the first time these ancient woodlands and scowles have been used for an international feature film.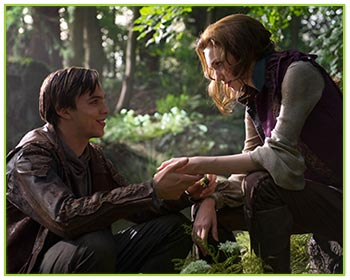 Jack the Giant Slayer, is a modern day adaptation of the classic children's fairy tale Jack and the Beanstalk. It follows a young farmer, Jack, played by Nicholas Hoult, who's given the chance to lead a dangerous expedition to save a princess. The princess, played by Eleanor Tomlinson, was kidnapped and the peace between man and giant is threatened.
Other stars on set at Puzzlewood included Ewan McGregor, Stanley Tucci, Eddie Marson, Simon Lowe, Ewen Bremmer and Mingus Johnston.
One lucky visitor came to Puzzlewood on a whim and managed to watch some of the filming taking place. Read her blog to find out more and to see her filming photographs - Suzy's Vintage Attic, Blog.
'Wizards vs Aliens'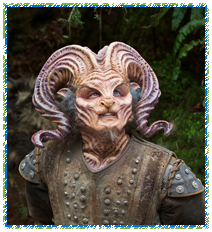 'Wizards vs Aliens' is a CBBC adventure programme that used Puzzlewood as the site of an encounter between the schoolboy heroes and the Alien Nekross.
Da Vinci's Demons
The second series of the acclaimed Da Vinci's Demons will air on FOX in 2014, Puzzlewood's magical scenery creates the look and atmosphere of 15th century South America. The series was created by David Goyer whose other credits include the Blade and Batman trilogies.
Tree Fu Tom - CBeebies
Puzzlewood was used to film the magical opening and closing sequences for the animated CBeebies adventure 'Tree Fu Tom'. Tree Fu Tom is an innovative program to encourage young children with their movement skills as they copy the magic actions of Tom.
Secret Supper Club
The Channel 4 programme the Secret Supper Club dined at Puzzlewood on a cold October evening. A host of local producers showcased their brilliant produce in a programme hi-lighting how much the area has to offer. A Hog Roast formed the centre piece of a delicious supper that was cooked in the Puzzlewood itself.