PUZZLEWOOD IS CELEBRATING
VISIT BRITAIN - YEAR OF LITERARY HEROES
& VISIT WALES - YEAR OF LEGENDS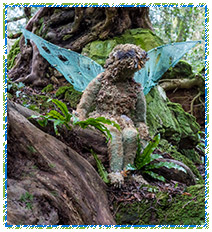 9th JUNE - 18th JULY
Puzzlewood has been the inspiration for many famous writers including Tolkien, films such as Star Wars and TV productions including Merlin. So to inspire you we have commissioned MOOT in Coleford to create 8 magical/mythical pieces of art. There are 7 in the woods and one by the café.
We would like to encourage you to get involved by sending us poems, songs, stories, pictures, photographs or live videos! 
Really doesn't matter as it's all about being inspired and getting involved. We will be giving out prizes and celebrating submissions on our social media platforms. 
So please do get involved and post/send to:
Facebook: @Puzzlewood
Twitter: @Puzzlewoodfod
Email: This email address is being protected from spambots. You need JavaScript enabled to view it.
MACBETH BY BUTTERFLY WE ARE
3rd - 8th OCTOBER

Puzzlewood is very pleased to announce that Butterfly We Are is coming back. During this unique, site-responsive adaptation of Macbeth, Butterfly invite you to join the characters as you walk along the paths following the action, whilst the story unfolds all around you. Butterfly is a professional theatre company that brings Shakespeare's classics to life in extraordinary settings.
Witches wait for Macbeth in the woodlands. They dance in delight, putting their deadly prophecy in motion, whilst Macbeth grapples with ambition, greed and power. Loyalty is tested as Macbeth pursues the crown, but loses it all, in Shakespeare's infamous tragedy. Is power really worth the ultimate price?
You will be enthralled by this unique retelling of Shakespeare's beloved tragedy. Come and be transported as you follow the actors around this historic entrancing woodland.
Tickets for Macbeth are available to book online HERE.
PUZZLEWOOD AUTUMN, FOREST OF DEAN & WYE VALLEY SCHOOL OF PHOTOGRAPHY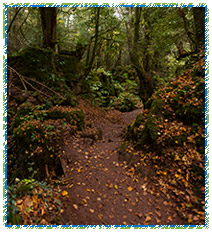 14th OCTOBER
Spend the day under the expert guidance of David Broadbent from the Forest of Dean and Wye Valley School of Photography.
Learn how to capture the beauty of autumn here in Puzzlewood. His excellent tuition always results in improvement.
HALLOWEEN HUNT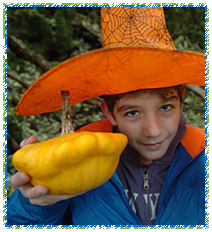 23rd - 29th OCTOBER
Search our mysterious woods for witches, pumpkins, goblins and more! Hiding in mossy gulleys, under wooden bridges, in spooky trees and beside secret benches. Find them and we have a prize for you.
No need to book, just come along and please dress up!
CHRISTMAS WITH SANTA AND LITTLE RED RIDING HOOD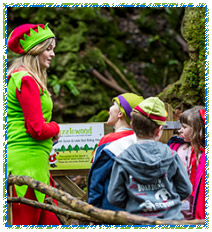 9th - 10th and 16th - 24th DECEMBER
Come and write your letter to Santa, then dress up as Little Red Riding Hood or the Woodcutter and go off into our magical woods to find Santa with Grandma. Deliver your letter and let him know how good your have been! Plus make your own special Christmas decoration to take home and hang on your tree. Booking is strongly advised via our website and tickets go on sale in September.