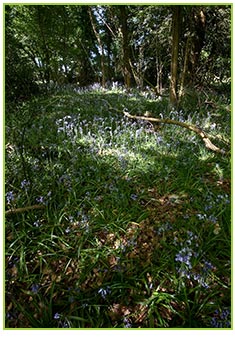 Puzzlewood is home to a wide variety of trees; Oak, Beech, Ash, Lime and Yew can all be found in the wood. Yew has a particular liking for Iron and its roots will actively seek out the veins of iron ore. Look for the fantastic root formations. Fallen Yew branches are reused to make the fences and bridges, they are particularly suited to this as Yew is a very hard durable wood. Farmers used to say that "A Yew tree post will outlast a post of iron".
The face of the wood changes through the year. In early spring the wood is fresh with the bright green of new growth and melody of birdsong. In late spring the bluebells create a beautiful blue carpet. Call us to check when the bluebells are out on 01594 833187.
In summer the bluebells are replaced by lush clumps of ferns, predominantly the Soft Shield Fern and the Harts Tongue Fern and the smell of wild garlic is in the air.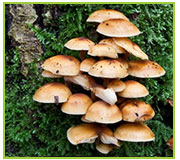 Autumn brings a wide range of fungi on the old tree stumps. Throughout the year the rocks are covered in feathery moss which looks especially lush when it has been raining. Did you see anything else? - let us know.
The wood is home to badgers and foxes and a wide variety of birds.
Nearby is the Site of Scientific Interest of Old Bow and Old Ham Mines which is home to protected colonies of Greater horseshoe Bat (Rhinolophus ferrumequinum) and the Lesser horseshoe bat (Rhinolophus hipposideros). They can often be seen hunting at dusk.
Please do not disturb the wildlife. The wood is their home and we are merely visitors to their domain. The beauty of Puzzlewood is in essence due to its unmanaged and natural appearance. Please keep to the pathways for your safety and so that future generations can enjoy the same beauty as you.